Due to the Russian aggression, all the Ukraine-related services are currently suspended. We will resume the affected activities as soon as the situation normalizes. Stay safe & glory to Ukraine!

Ukraine is getting popular as a destination for people wanting to live and work in a country with growing economic potential, hospitable people and near future prospects for membership in European Union and Schengen zone.
---
Our company offers professional consulting services in regard to Ukrainian Immigration laws, policies, and procedures. We can help whether you are considering a move to Ukraine temporarily or permanently.
Advantages of the residence permit in Ukraine:
the right to move and reside freely on the territory of Ukraine;
the right to education (including free education for children);
the right to acquiring citizenship of Ukraine *;
the right to financial services in Ukraine (cards, accounts, credits, loans etc.);
no need of getting work permit for employment (casual, temporary, regular job) *;
the right on appropriate working conditions (working hours, health and safety standards, holiday entitlements);
the right to family reunification (spouse, minor children and parents of PR holder are entitled to residence permit of the same duration);
no need of obtaining visas, filling immigration cards, getting registrations, paying consular fees;
the right on duty-free entry of vehicles (for personal use);
the right to obtaining visas to third countries from Ukraine;
the right on pension provision, family allowance and social security (minimum income support, retirement pensions, free health care, etc.)
* – only for permanent residence permit holders
---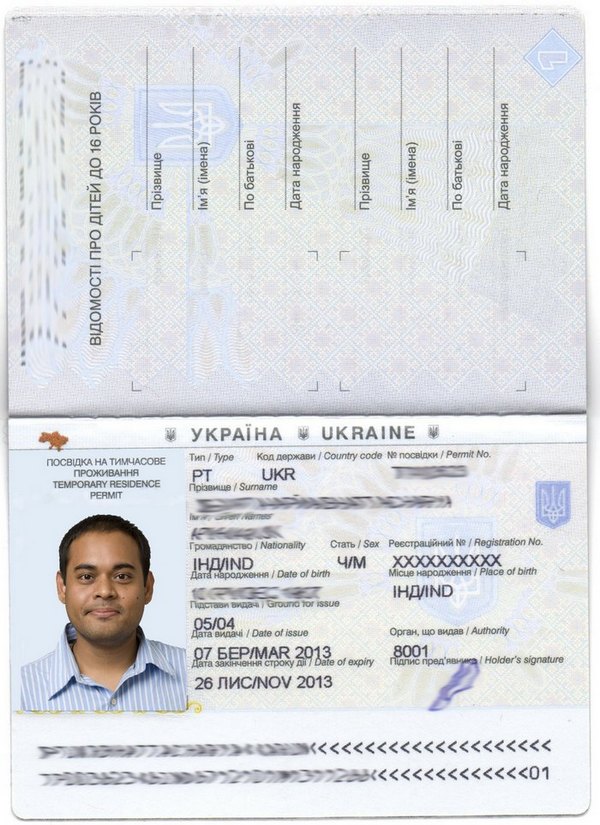 Permanent residence grants recipients similar rights and privileges enjoyed by Ukrainian citizens (excepting the right to vote or to hold a position with a high-level security clearance).
Ukrainian Residence status does not influence the holder's original citizenship. This is very convenient for those who came in Ukraine with long-term goals but can easily come back to his home country at any time.
Invitation in UA can guide and advise you on the most appropriate steps to take in applying for your Ukrainian residence permit/immigration visa. Should you have any questions in regard to the residence permit, please feel free to get in contact with one of our experienced immigration consultants.
---
Temporary residence permit – is a document permitting a foreign citizen or a stateless person to stay on the territory of Ukraine continuously throughout the term of the permit validity. Most often, the residence permit is issued for 1 year with the annual renewal possibility. For the extension of a residence permit you need to confirm that the grounds for an extended stay in Ukraine are still relevant.
Grounds for obtaining temporary residence permit:
Residence permit is issued for the period of 1 year on the basis of:
Employment proved by the valid work permit delivered by the relevant Employment Centre
Marriage proved by the marriage certificate issued by the Ministry of Justice
Participation in the implementation of international technical assistance
Work in the religious organization in Ukraine. It should be proved by the invitation certified by the Ministry of Culture of Ukraine
Work in branches, departments, offices, or other structural units of the public (non-governmental) institution of a foreign state
Work in a representative office of a foreign company. It should be proved by the invitation certified by the Ministry of Economic Development and Trade
Work in a branch or representative office of a foreign bank
In other cases provided by international treaties of Ukraine
Permanent residence permit – is a document permitting a foreign citizen or a stateless person to reside in Ukraine without any time restrictions to implement all the long-term intentions. Obtaining the status of a permanent resident of Ukraine equalizes its holder with the citizen of Ukraine and guarantees the protection of legal rights and freedoms by the state.
Grounds for obtaining permanent residence permit
Immigration Permit shall be given within the immigration quota.
The immigration quota according to the categories:
Scientists and cultural workers whose immigration meets the interests of Ukraine
Highly qualified specialists and workers, the urgent requirement of whom is notable for the economy of Ukraine
Persons who made foreign investment in the economy of Ukraine in foreign convertible currency amounting to not less than one hundred thousand dollars
Individuals being a brother or sister, a grandfather or grandmother, or a grandchild of citizens of Ukraine
Former citizens of Ukraine
Parents, husband (wife) of an immigrant and their minor children
Persons who lived for permanent in Ukraine within three years from the date of obtaining the refugee status or asylum in Ukraine, and their parents, husbands (wives) and minor children residing with them
---
Immigration permit out of the immigration quota is granted to:
One spouse if another spouse with whom he/she has been married for over two years is a citizen of Ukraine, children and parents of citizens of Ukraine
Persons who are guardians or trustees of citizens of Ukraine, or under the guardianship of citizens of Ukraine
Persons who are eligible for citizenship of Ukraine by territorial origin
Persons whose immigration is a matter of the state interest for Ukraine
Foreign Ukrainians, spouses of Foreign Ukrainians and their children if they enter and stay in Ukraine together
Our company offers you the opportunity to arrange all immigration documents competently and in the shortest time, even without your personal presence. Obtaining residence permit in Ukraine in cooperation with our lawyers becomes quick and easy. Your documents will be properly arranged and timely submitted to the Migration Service of Ukraine.
---
* If you don't have any obvious reason for the residence permit – our specialist will advise you on the possible variants
---
* We will get back to you shortly after receiving your inquiry.
---
Years of practice in the area of legalization of non-residents guarantees competent advice and quality representation of your interests on the territory of Ukraine.