Migration to Sweden (Asylum Program)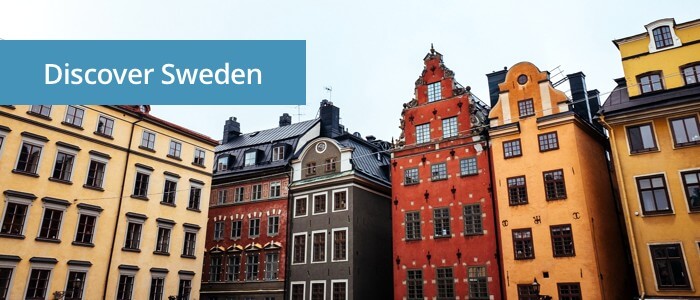 If we take a look at the rank of countries with the highest standards of living in the world, it is noticeable that at the very top there are always a several of them such as Iceland, Germany, Finland, Sweden, Norway, Denmark, Switzerland. As is often the case, Scandinavian countries dominate. It scored highest by a number of factors, such as lifetime, education, medical care, financial well-being, access to basic knowledge & personal rights.
Among the Scandinavian countries Sweden takes a special place due to the simple migration policy.
Sweden is a very multicultural country: 15 per cent of Swedes were born in another country, while about one in five children in Sweden has a family with roots in another country.
There are only 2 ways of Migration & Employment in Sweden:
Employment visa. If the vacancy that is posted on the Swedish labor exchange website does not respond to Swedish or EU citizens within 2 weeks, the employer has the right to give the official invitation to a person through the Swedish embassy. This is essentially relevant to shortage professions (for example, surgeons, IT workers, specialists in the development of oil fields).

Asylum Seeker Card (LMA card) and work permit. It is issued to the individuals who applied to the Migration Service for Asylum. It gives the opportunity to get a temporary residence permit for a period of application review (around 2 years) as well as further obtaining of permanent residence permit and citizenship in case of a positive decision on your application. During the time of the application review, you can officially work in Sweden.
If you want to move to Sweden, it's the right place to start.
Upon arrival in Stockholm, you will be met by our lawyer who will help you to submit the Asylum application to the State Migration Service.
From the first day, you will be accommodated at the hotel for migrants, where you can stay and eat for free while your documents are prepared (the LMA card with the work permit is prepared within 10 working days). You will get a state support in the amount of €270/monthly until the job contract will be signed.
We will take care to find an apartment & job for you. As soon as you receive the Asylum Seeker Card (LMA card), the job contract with the employer will be signed. After that, we prepare your application for obtaining so-called "four digits" (tax ID), which allows you to buy a car, sign rental agreements, opening a bank account etc.
We cooperate with large employers base on a regular basis (which involves more than 50 firms and 200 entrepreneurs) who are constantly developing and need cheap and skilled working power. Our team, including legal expert and lawyer, will prepare all the necessary documents with Your presence just in Stockholm, the capital of Sweden, for Your legal stay and employment in the country.
What is the salary in Sweden?
The Swedish citizens do not want to work for less than €19-20 per hour, whereas our employers offer a range of salaries € 7-15 per hour depending on your skills and qualifications. That means that general worker or cleaner has the salary in the amount of €7-10 per hour, drywaller earns € 9-12, tile layer gets € 12 -15 and craftsman`s salary is € 15-18 per hour (net salary after taxes)
What are the expenses of living in Sweden?
You pay for the accommodation yourself (the payments is around €250-€300 per person for the shared apartment). You will also need about €150-€200 for food, €85 for an urban-transport pass, €15 to top up the mobile phone. In total it makes €500-€600 of personal expenses per month.
What Jobs are available in Sweden?
1) Without English/Swedish knowledge:
Construction workers (craftsmen)
Plasterers
Drywallers
Facade workers
Electricians
Plumbers
Tile Layers
Wall painters
Reinforced concrete builders
Carpenters
Bricklayers
Cleaning specialists
Universal workers in construction
2) With English/Swedish knowledge:

Drivers
General workers
Workers in warehouses, factories, greenhouses
Nurses
Other specialists
What are the advantages of the Asylum Seeker Card?
In case you have found a better job, you may change the place of work upon your desire. At the same time, Swedish work visa doesn't give you the right to change the employer. When you resign the job your visa will be canceled. In case of employment for a contractual work on the basis of
LMA-card with the work permit, you will pay taxes in Sweden and, accordingly, you have the insurance. You may apply to the police in case of violation of the terms of the contract and to the hospital where you will have free medical care according to the work insurance.
How to increase the chances of asylum approval?
To significantly increase your chances of getting Asylum in Sweden you need to show that you are the person who needs protection. We recommend proving documentary that you have been a victim of religious, ethnical or any other harassment in your home country. You can take some police/hospital statements for this purpose as a evidence.

Our services include:
Meeting in Stockholm & lawyer instructions
Asylum preparation & application submission. Getting LMA-card & work permit
Search for accommodation
Search for the job according to your qualification
Providing you with "4 digits" (tax ID)
Opening a bank account
Package price: 3600 USD
All applicants are required to have basic knowledge of English language sufficient for the casual communication.
** We will get back to you shortly after receiving your inquiry with more details on application procedure.